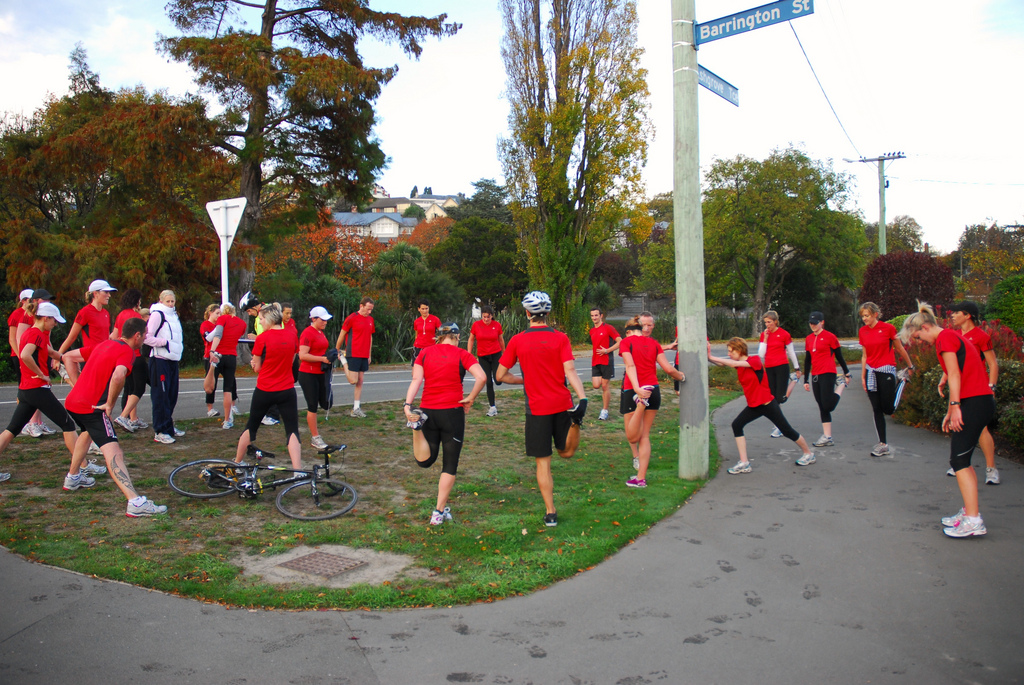 Looking After Yourself
Over the next few months you are going to feel like a focused athlete, you'll have a higher level of motivation, you'll be training to levels that will help you grow and you'll find a new belief in your ability. We love this stuff, it's what we are all about. But there is one thing that can instantly take you away from this amazing place. Injury.
Over the years that we have been doing RaceTeam and our other running groups we have found that we get about a 10% non-completion rate due to injury. While some of these injuries come from freakish accidents, the majority are injuries that stem from muscle imbalances that can be avoided through specific strengthening work. We want you to be aware of this and make sure you do all that you can to complete your goal without injury.
For this reason we have 3 things we recommend you do in conjunction with your RaceTeam programme: stretch work, core work and muscle imbalance testing.
Stretch
Stretching is a vital component to your training, we cannot stress this enough. There are several great online resources for yoga and stretches for runners, here are a couple that we love:
Core
Your core is your body's pillar which stabilises all movement, a strong core means efficiency with movement. We strongly encourage you to do this core programme alongside your running programme throughout the 10 weeks with RaceTeam.
Muscle Imbalance Test
One of the best things you can do for you body either now or in the early stages of RaceTeam is to get a Muscle Imbalance Test done. Here's what physiotherapist Kate Horton says about a Muscle Imbalance Test:
Muscle balance testing is very beneficial to do especially prior to starting some training. It will highlight any imbalances, areas of tightness or weakness that you could be working on to help you achieve your running goal injury free.

We will be carrying out a muscle balance test to look at screening each person to identify areas of weakness and/or tightness that could lead to injury whilst running if not addressed. The screening will take around 40minutes, I will ask you to bring your running trainers and we will do some basic testing. It does not matter if you have never done any running, it will help give me an idea of areas you may need to work on. This will involve looking at your posture, walking and running with shoes on and off, some basic functional strength and flexibility tests. Following this I will be able to explain to you any significant problems and show you exercises or stretches to help prevent you from injury. I will also be able to give you some basic tips that you can try whilst running and discuss further with the coaches, to ask them to keep an eye on your whilst training.

If we highlight several issues it could also be helpful to have a follow up session which could be 3-4 weeks later to re evaluate how you are progressing and change exercises.

- Kate Horton, Physiotherapist
We can't recommend this highly enough! There is a cost of $75 but it will be money well spent.
To book a Muscle Balance Test:
Active Health - ask for at appointment with Kate or Bevan
Phone: 383 6290 90 (let them know you are with Extra Mile Runners)
Address: 545 Manchester street
What to take with you to the assessment:
Appropriate exercise clothing

Running shoes
ABOUT THE PHYSIOTHERAPISTS
BEVAN LAWSON
BPhty (credit)

Bevan graduated from the University of Otago in 2006, receiving the Sheila Consuela MacDiarmid Scholarship. He now specialises in musculoskeletal and sports physiotherapy with a focus on exercise-based rehabilitation and injury prevention. Bevan particularly enjoys working with youth athletes, helping them rehabilitate from injuries and return to sport with improved biomechanical efficiency. Bevan has also developed an expertise in muscle balance assessment, occupational health, and golf-specific physiotherapy, including body and swing analysis. Bevan competes to a high level in his own sporting endeavours and is the captain of the New Zealand Korfball team. Bevan has also been the physiotherapist to both the New Zealand and Australian Korfball teams.
KATE HORTON
Physiotherapist and Pilates Instructor
BSc(Hons), certified Matwork Pilates instructor (APPI) UK
Kate has a wide range of physiotherapy experience, having qualified in 2001 from Manchester University in the UK. She has worked in many areas of musculoskeletal physiotherapy both in the UK and New Zealand, from sports teams, to hospital and private practice, and has taught Pilates classes regularly since 2008.
Kate moved to New Zealand in 2009 and has been teaching up to five Pilates classes a week. She connects well with people of all ages, to help to assess, treat and prevent further injury. She has a keen interest in muscle balance problems and postural issues. Kate also enjoys treating shoulder and back injuries, along with post-operative care. She relishes the challenge of working out the problem and treating injuries with a combination of manual therapy, exercise prescription and looking at long term prevention.
In her spare time, Kate is an avid runner and has been a member of Extra Mile Runners in Christchurch for several years, having completed a number of half marathons. Living close to the Port Hills with her husband, she loves having the perfect training ground on her doorstep.
PRE-EXISITING CONDITIONS OR PREVIOUS INJURIES
If you have a pre existing medical condition or have struggled in the past with injury, do seek advice from a medical professional before you start this programme.

Get in touch with us and we will send you the programme that you can show to your GP, physio, or other specialist so they can give you guidance on this.